Every year at about this time, our local church puts on a big celebration for the Feast of Saint Rocco. There are carnival rides, and live music, and Italian food. In years past, we've always missed it, but last year, we managed to get there for one afternoon. Nate rode a couple of kiddie rides, but most of the rides were for big kids. Nate was five-almost-six and too little to go on them. Truth be told, he didn't really want to go on them. He's always a bit… apprehensive about trying new things. Sandy and I tried to get him on the Caterpillar Coaster, or maybe the Ferris wheel, but he knew darn well that it was just too scary. We were a little disappointed, because we wanted to ride the Ferris wheel ourselves. But so it goes.
This year, he is six-almost-seven. This year, we ran into a couple of friends of his, Michael and Matt, who are in his Cub Scout den. They are all in the same grade, but Nate is the youngest kid in his class, so these boys are a bit older than him. As soon as we finished stuffing our faces, they headed right for Pharaoh's Fury, a Big Kid carnival ride for sure. And Nate was not interested in going on that ride, no way, no how.
Michael's older sister, Amy, is eleven years old. She wasn't too keen on Pharaoh's Fury either. She immediately took Nate under her wing and asked if he would go on the Caterpillar Coaster with her.
Amazingly, he would.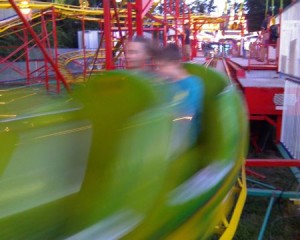 They went on lots of rides together, and Nate had a wonderful time. We had a wonderful time watching him.
When it came time for the Ferris wheel, Nate took his place in line next to Amy. Sandy and I fell in line behind them. As the wheel spun, and the ground fell away from us, we laughed with the sheer joy of it. We could hear Nate and Amy laughing from the next car. And when our car got to the very top, the ride stopped for a moment. We could see for miles, and the new moon was low on the horizon. I put my arm around Sandy, leaned over, and kissed her, carefully. I knew we'd get up here eventually.